CVMP 1 (AKA PN 321.6+02.2)
Planetary Nebula in CIRCINUS
(Image centered at: ra 15:09 / dec - 55:33)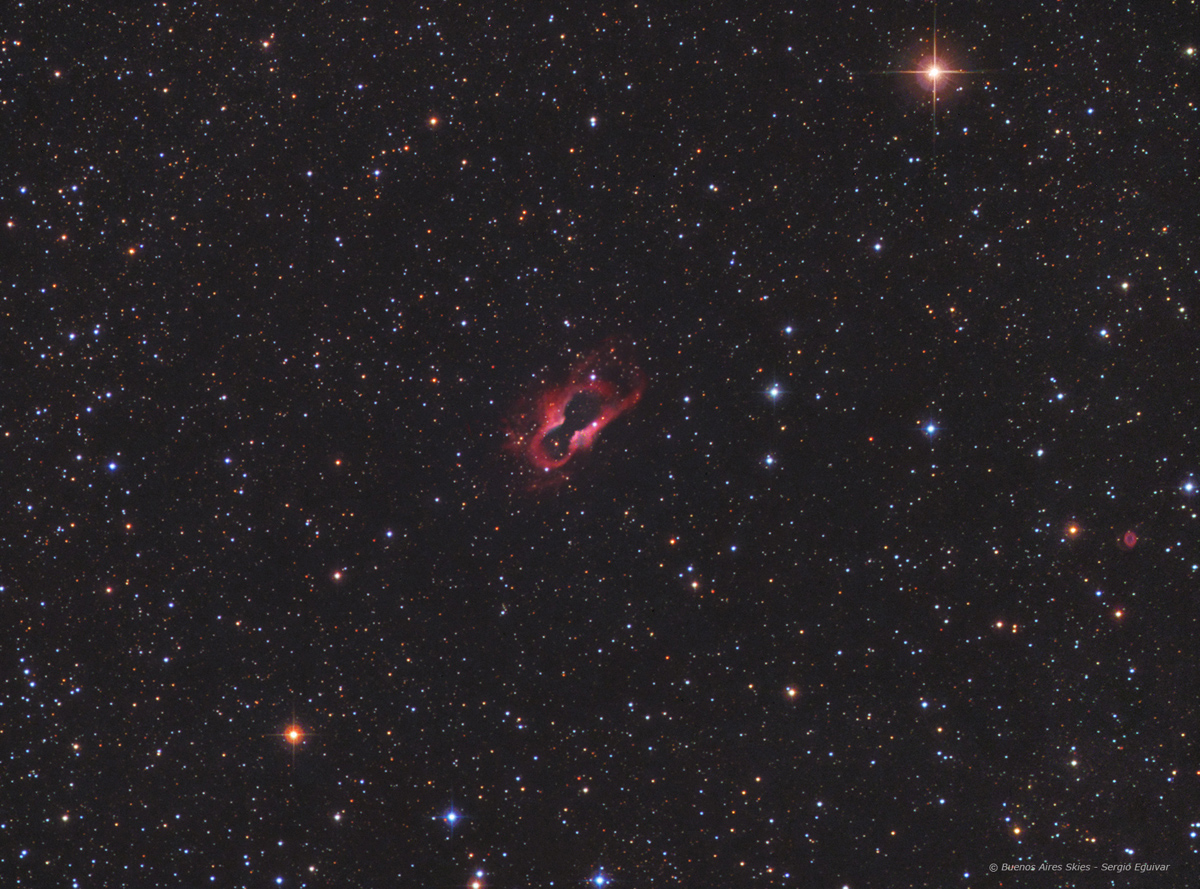 CLICK THE IMAGE FOR A LARGE VIEW
June 2021, Home Backyard in Martínez, Buenos Aires, Argentina
---
DATA
TYPE: Planetary Nebula
VISUAL BRIGHTNESS: NA
IMAGE SIZE: 7 arc minutes
DISTANCE: 6500 light years
IMAGE INFORMATION
SCOPE: 8" ORION OPTICS UK (Ultra Grade Optics) w/Televue Paracorr working at at f5,75
CAMERA: QSI 583 WS
MOUNT: SKY WATCHER NEQ6
FILTERS: Baader LRGB Set Astronomik 6nm Ha filter
SKY CONDITIONS: urban skies
EXPOSURES: LHARGB (40,96,40,40,40)
OBJECT DESCRIPTION AND IMAGE SESSION
Located at the boundaries of Circinus and Lupus stands this intriguing southern gem with a bipolar shape.
By 1996 there were no studies explicitly dedicated to this emission nebula, therefore Italian and Spanish astronomers Corradi; Villaver; Mampaso and Perinotto dedicated observations aiming to establishing its exact nature. The images and spectra acquired on that occasion confirmed without a doubt that the object was indeed a planetary nebula.
Following the nomenclature rules used in astronomy, the four astronomers proposed to call it PN G321.6+02.2, name in which the prefix 'PN' stands for planetary nebula, while the numbers indicate its position in the sky, expressed with the galactic coordinate system. However the name that remained was the one obtained from the initials of the surnames of the four authors, hence the nebula is better known as CVMP 1.
The hourglass shape suggests that a large-mass AGB (asymptotic giant branch) star produced during some kind of interaction with a binary companion. The interactions that cause such morphology has not yet been clearly understood. CVMP 1 has a linear extension of 13 light years. The remarkable extension of the nebula and the rarefaction of the gases of which it is composed, tell us that it is a very ancient planetary nebula. Corradi's group calculated an age greater than 12,000 years, assuming a gas expansion rate of less than 100 km/s along the polar axis of the nebula.(*)
At the middle right of the image we have PK 321+1.1 shining at magnitude 14,2 with a relative size of 30 arc seconds.
(*) Text from Michele Diodati, adapted for the object description in this site.
---