NGC 7582, NGC 7599, NGC 7590 & NGC 7552
GRUS QUARTET
(Image centered at ra: 23:19.02 / dec -42:12)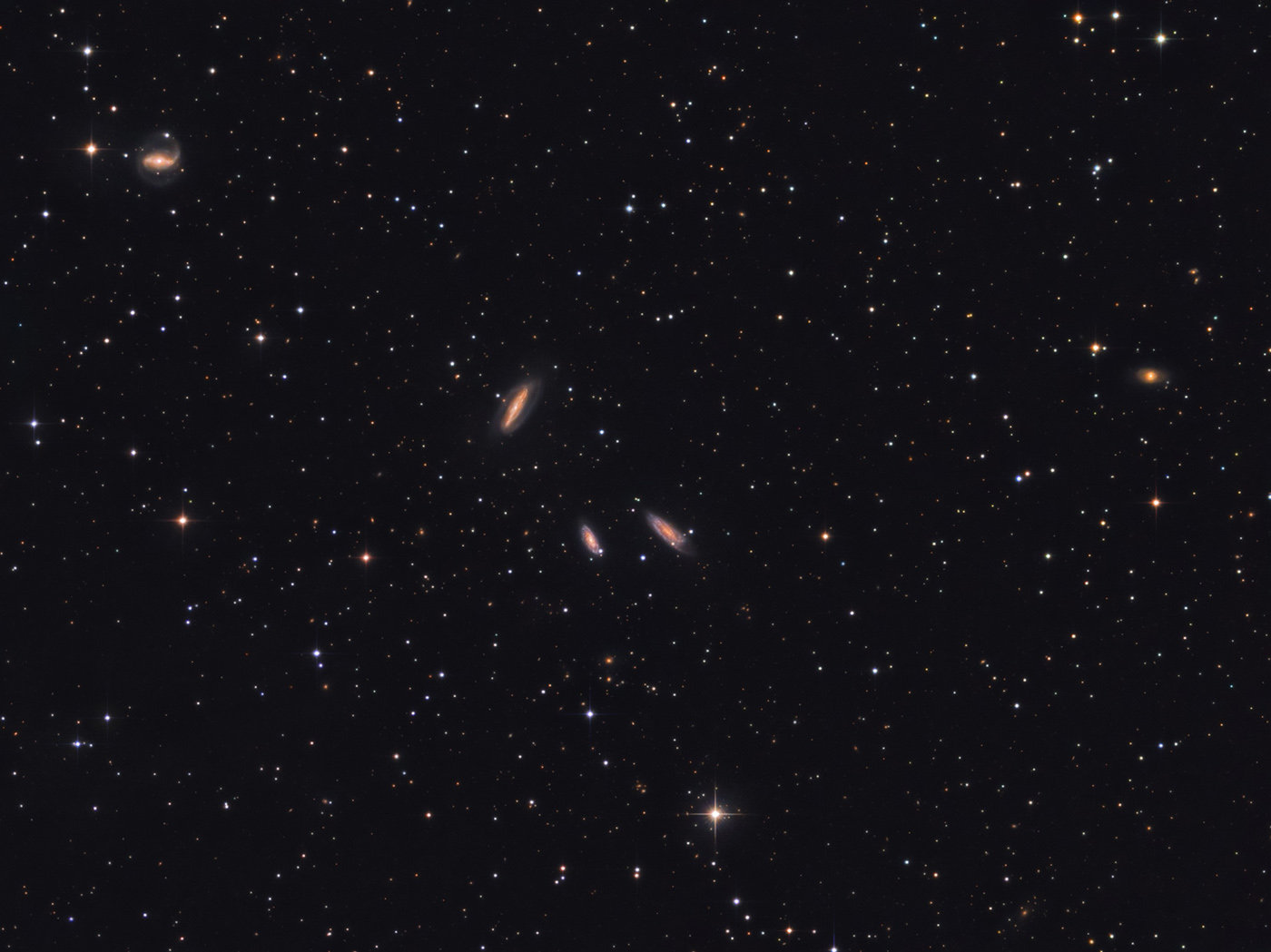 CLICK IN THE IMAGE FOR A HIGH RESOLUTION VIEW
September 2012, - Star Party Doyle, Buenos Aires - Argentina
---
DATA
TYPE: Galaxy Group
VISUAL BRIGHTNESS: NGC 7582 10.5 - NGC 7599 11.5 NGC 7590 11.3 & NGC 7552 10.6
APPARENT DIAMETER: NGC 7582 5x2.3 arc minutes - NGC 7599 4x1.4 arc minutes and NGC 7590 2.6x1 arc minutes & NGC 7552 3.4X2.7 arc minutes.
DISTANCE: 60 Million light years
IMAGE INFORMATION
SCOPE: ORION OPTICS UK 6" f5 Newtonian
CAMERA: QSI 583 WS
GUIDING: LodeStar in Synta 70/400 refractor / PHD Guiding
FILTERS: Baader LRGB Set
SKY CONDITIONS: Rural Skies with 40% Crescent Moon at 21 degrees.
EXPOSURES: LRGB (90,30,30,30) for a total exposure time of 3 hours
PROCESSING: Images Plus / Photoshop CS2
OBJECT DESCRIPTION AND IMAGE SESSION
The Grus trio is sometimes considered as a quartet if we include NGC 7552 which in this case is visible in the top left on the image. There are not much images of this group and even less if we include the possible forth member. The three centred galaxies are quite bright and there are confronted in a 16 arc minutes field while NGC 7552 is relative separated by 27 arc minutes. The group have a strong interaction. The high starburst activity of two of the members, NGC 7552 and NGC 7582 (center top), is also thought to arise from tidal galaxy interactions and subsequent formation of a bar in the disk.
There are also many faint galaxies and galaxies cluster in the sky background that can be better seen in the high resolution image.