NGC 3496
OPEN CLUSTER IN CARINA (THE KEEL)
(Image centered at: ra 18 h:59 m / dec - 60º 20')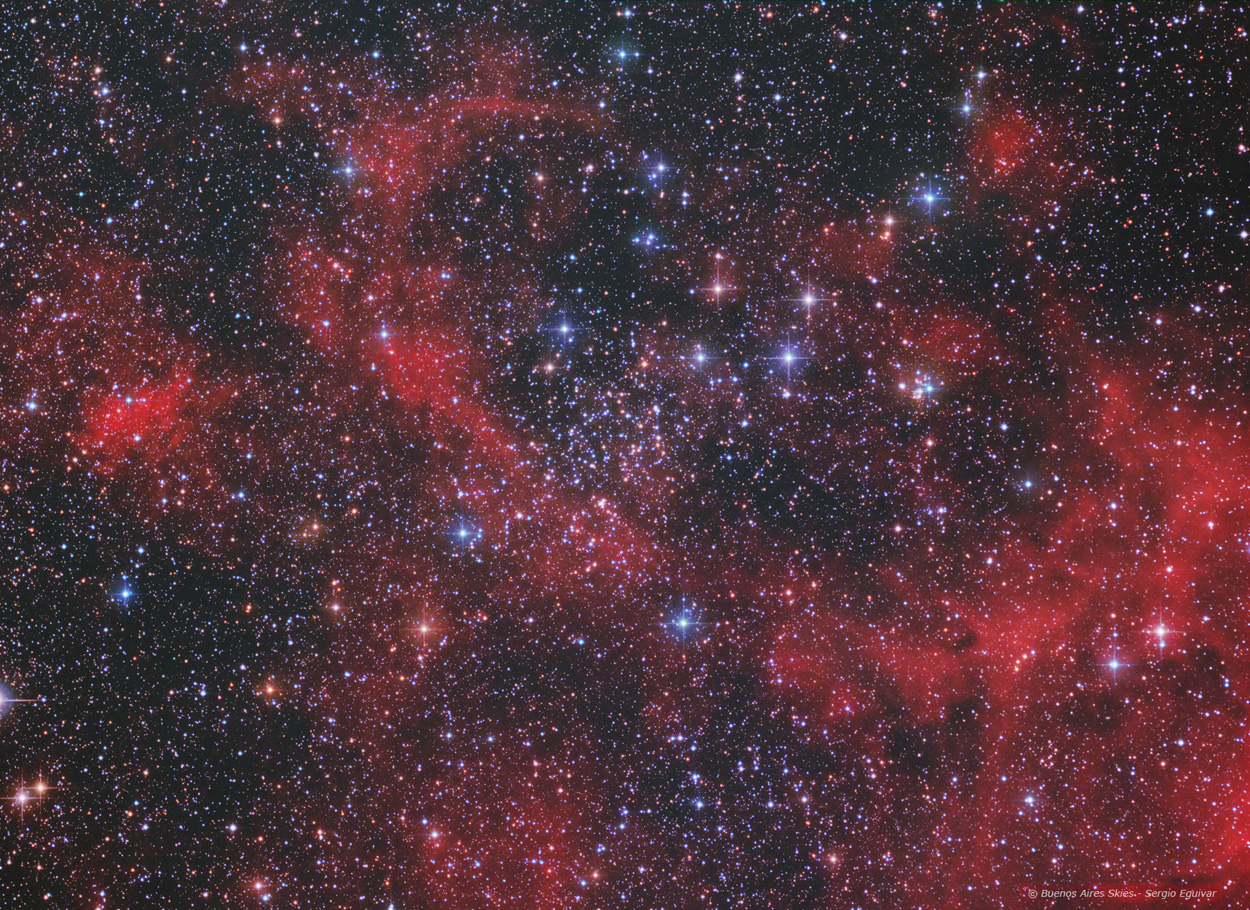 CLICK THE IMAGE FOR A HIGH RESOLUTION VIEW
March 2022, Home Backyard in Martínez, Buenos Aires, Argentina
---
DATA
TYPE: Open Cluster with nebulosity
APPARENT DIAMETER: 9 arc minutes
APPARENT MAGNITUDE (V): 8,2 (mag)
DISTANCE: 3230 light years or 990 parsecs
IMAGE INFORMATION
INSTRUMENT: 8" ORION OPTICS UK (Ultra Grade Optics) w/Televue Paracorr working at at f5,75
CAMERA: QSI 583 WS
MOUNT: SKY WATCHER NEQ6, OAG with Starligh Xpress Lodestar
FILTERS: Baader LRGB Set, Astronomik Ha 6nm; Astronomik OIII 12 nm
SKY CONDITIONS: urban skies - Bortle 8
EXPOSURES: LHARGB (30,60,30,30,30)
OBJECT DESCRIPTION AND IMAGE SESSION
NGC 3496 is located almost 3 degrees east from Carina Nebula. This open cluster is embedded with nebulosity which is part of the enormous nebula region known as RCW 54 ich is whionized by stars of the Car OB2 association. RCW 54 complex is at 3100 parsecs while NGC 3496 is at 990 parsecs
This cluster has same similarities to the well known open cluster NGC 3532. Although the last one is relative bright and bigger, it has the same RCW cloud crossing by in its background.
NGC 3496 presents a fairly compact structure grouped in 11 to 15 magnitude stars. It is a relative young open cluster with a estimated age between 400 to 600 Million years.
The image was taken from Buenos Aires suburbs.
Haven't seen many colour images of NGC 3496 taken by non professionals telescopes...

---