RCW 98 - THE COFFEE BEAN NEBULA
EMISSION NEBULA IN NORMA
(Image centered at: ra 15 h:55 m / dec - 54º 39')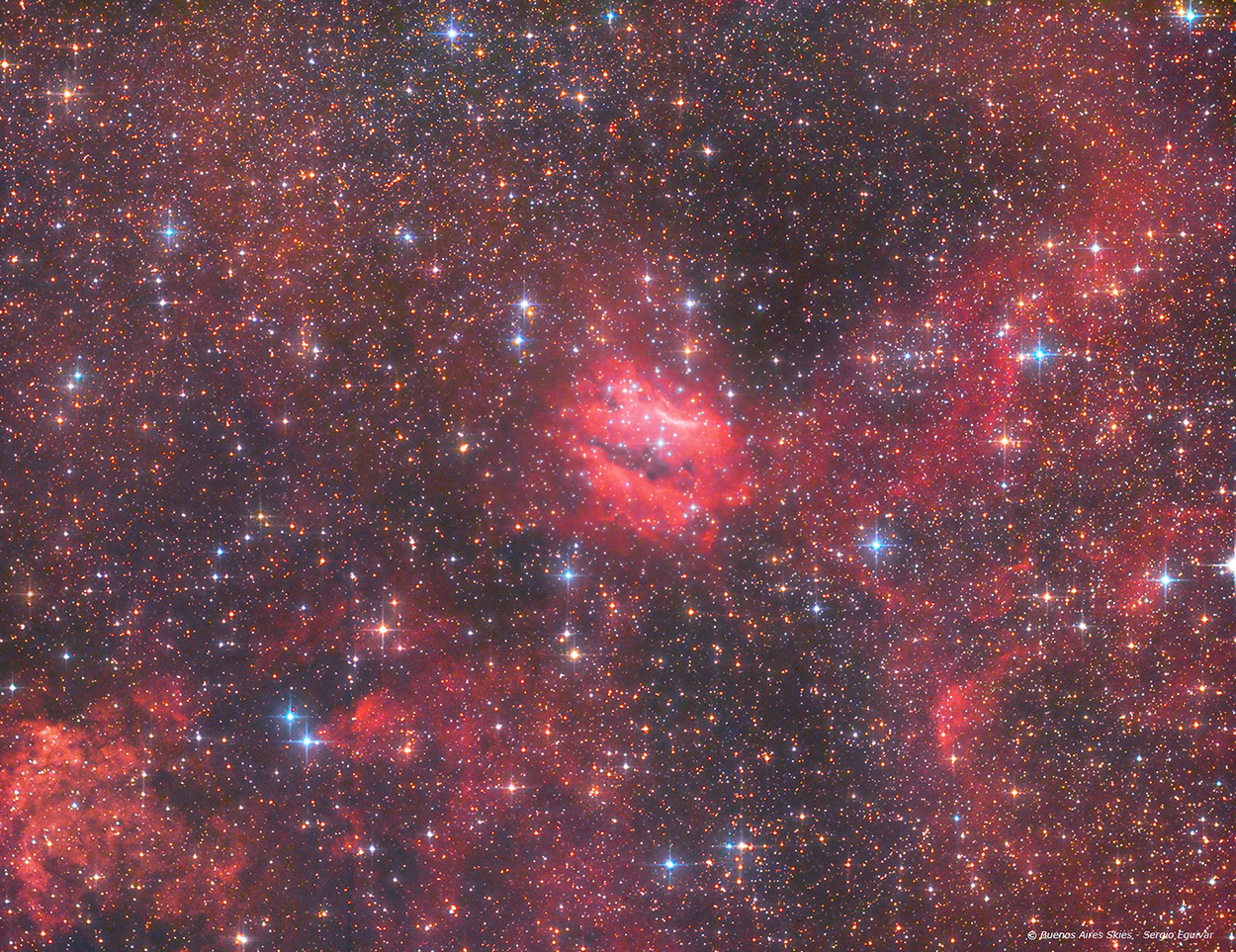 CLICK THE IMAGE FOR A LARGE VIEW
March 2022, Home backyard in Martínez, Buenos Aires, Argentina
---
DATA
TYPE: Emission Nebula
APPARENT DIAMETER: 20 x 15 arc minutes
VISUAL BRIGHTNESS: NA
DISTANCE: 9800 light years
IMAGE INFORMATION1
INSTRUMENT: 8" ORION OPTICS UK (Ultra Grade Optics) w/Televue Paracorr working at at f5,75
CAMERA: QSI 583 WS
MOUNT: SKY WATCHER NEQ6, OAG with Starligh Xpress Lodestar
FILTERS: Baader LRGB Set
SKY CONDITIONS: urban skies - Bortle 8
EXPOSURES: LHARGB (40,120,40,40,40)
OBJECT DESCRIPTION AND IMAGE SESSION
RCW 98 is one of the southern 182 objects that astronomers Rogers, Campbell and Whiteoak placed in their RCW catalogue published in 1960.
In particular RCW 98 is an HII region with a ring type structure around a Wolf Rayet star. Strong radiation from nearby stars is causing star formation in each bright section of the nebula where proto-stars have been detected by radio telescopes. The nebula is 310 thousands years old and it is ionized by super giant CPD-54 6791. The ionised gas has strong electron densities which are significantly high and produces star formation.
Below left it is visible part of RCW 97 which was originally my planned target, however the mount "goto" landed in this peculiar object and decided to go for it instead.
---